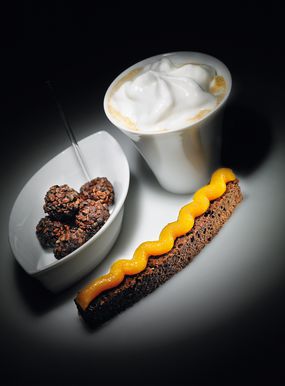 Intense
lngredients: P125 Coeur de Guanaja
Procedures: 5
Original recipe by Thierry BRIDRON Head pastry chef at l'Ecole Valrhona. Recipe made for 30 cafés gourmands
P125 Coeur de Guanaja Ganache
195g

Whipping cream 35%

45g

Inverted sugar

195g

Guanaja 70%

60g

Butter 84%
Bring the cream to the boil with the inverted sugar. Gradually pour on the melted chocolates stirring in the centre with a rubber spatula to create a smooth and elastic core of emulsion. Keep the texture to the end while pouring the remaining cream.
When the temperature of the ganache reaches about 35/40°C, mix in the butter using a hand blender. Allow to crystallise at 16/18°C.
P125 Coeur de Guanaja Cake
500g

Whole eggs

150g

Inverted sugar

240g

Caster sugar

50g

Ground almond

16g

Flour T45

240g

COCOA POWDER

16g

Baking powder

240g

Whipping cream 35%

150g

LIQUID CLARIFIED BUTTER
Mix the eggs with the inverted sugar and caster sugar. Add in the ground almond and the flour sieved with the baking powder and cocoa powder.
Pour the cream and the butter melted with the chocolate beforehand. Set aside in the refrigerator overnight. Pour the chocolate batter in cake tins lined with baking paper. Bake at 160°C for about 0/45°C. Set aside in the refrigerator.
Almond mousse Espuma
150g

ALMOND PASTE 70%

150g

Milk

250g

Whipping cream 35%
Mix the milk with the almond paste using a hand blender.
Add in the cold cream, strain through and pour in a cream whipper syphon. Screw in 3 gas cartridges. Set aside in the refrigerator.
Crystallised cocoa nibs
125g

Sugar

50g

Water

250g

COCOA NIBS
Cook the sugar and water to 115°C, throw in the cocoa nibs and stir until crystallised. Spread on a tray to cool down.
Mellow apricot compote with vanillla
460g

Light dried apricot

90g

Stock syrup 30°C

45g

Water

1

Vanilla pods
Process the apricots, syrup, water and vanilla in a blender to a smooth marmalade.