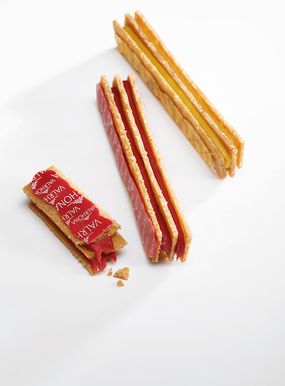 STRAWBERRY SILLON
lngredients: STRAWBERRY INSPIRATION
Procedures: 2
An original recipe by Rémi Montagne Pastry Chef - École Valrhona
CRUNCH
230g

european butter

340g

brown sugar

340g

flour

70g

egg whites

4g

vanilla powder
Mix all the ingredients together (make sure the egg whites retain a liquid consistency).
Spread out thinly between two baking sheets.
STRAWBERRY INSPIRATION GANACHE
125g

Whole milk

20g

Invert sugar
Heat the milk and invert sugar.
Slowly pour this mixture over the melted STRAWBERRY INSPIRATION.
Immediately mix with an immersion blender to make a perfect emulsion.
Set aside.