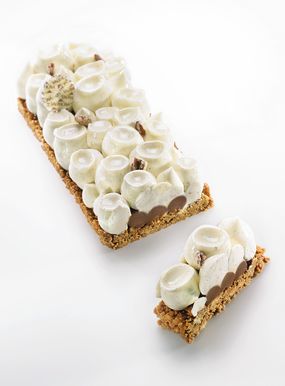 PACANE Tart
lngredients: 50% PECAN PRALINÉ
Procedures: 6
Makes four 60 x 10 cm stainless-steel frames
WHIPPED OPALYS VANILLA GANACHE
560g

whipping cream 35% fat

6g

Tahitian vanilla beans

60g

invert sugar

60g

glucose

810g

Opalys 33%

1490g

whipping cream 35% fat
Bring the smaller quantity of cream to a boil with the split and scraped vanilla beans. Leave to infuse for 10 minutes and then strain. Slowly pour the hot liquid onto the melted couverture and stir in the center to create an elastic texture with a glossy appearance, signifying the emulsion process is underway. Keep gradually adding the liquid. Blend to perfect the emulsion. Add the larger quantity of chilled cream and blend again. Set aside in the refrigerator and leave to set, overnight if possible. Whip before using.
PECAN PRALINÉ CRÉMEUX
Heat the milk and add the rehydrated gelatin. Pour a little of this mixture onto the praliné. It will separate. Emulsify in a freestanding mixer with a paddle attachment. Stabilize the emulsion, gradually adding the chilled cream until smooth, glossy and elastic. Blend to perfect the emulsion. Use immediately, or leave to set in the refrigerator before piping.
ALMOND SWEET SHORTCRUST
345g

dry butter 84%

6g

salt
Mix the softened butter with the salt, icing sugar, minced almonds, eggs, and the smaller quantity of flour. Take care not to over-process. As soon as it is evenly combined, quickly add the remaining flour. Set aside in the refrigerator and roll out the following day. Bake at 150°C (302°F) for around 12 minutes.
PRESSED PECAN PRALINÉ SHORTCRUST
Take the cooked and cooled Sweet Almond Shortcrust, weigh out and crush lightly. Mix with the Praliné, the Éclat d'Or, and the melted cacao butter. Use immediately or set aside.
ABSOLU CRISTAL SPRAY GLAZE
Bring the Absolu Cristal glaze to a boil with the water and blend. Use immediately at around 80°C (176°F).
SWEET AND SALTED CANDIED PECANS
Roast the pecan nuts at 150°C (302°F) for 12-15 minutes and then chop roughly. Cook the sugar with the water at 115°C (239°F). Add the pecan nuts and fleur de sel. Caramelize and pour onto a baking sheet to cool.