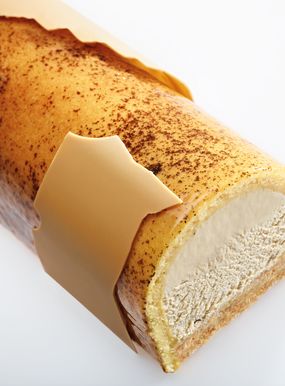 Madeira yule log
lngredients: Blond® Dulcey 32%
Procedures: 8
Recipe from Christophe RENOU, Chef Pâtissier at the'Ecole Valrhona, for 5 "Grand U" bûche molds (ref. 2171)
BRETON SHORTBREAD
245g

egg yolks

490g

caster sugar

490g

softened butter

685g

all-purpose flour

25g

baking powder

6g

salt
Whip the egg yolks with the caster sugar. When the eggs and sugar are whipped, add the softened butter.
Sift together the flour, baking powder and salt and add to the mixture. Pour onto a baking sheet and leave to rest before baking. Bake at 150-160°C with the damper open.
PRESSED BRETON SHORTBREAD
After baking, weigh the cooked and chilled Breton shortbread. Place in the bowl of a freestanding mixer with a paddle attachment and start the machine on the slowest speed to break the shortbread into crumbs. Add the melted cocoa butter and mix briefly.
VANILLA VIENNESE SPONGE
240g

egg yolks

640g

whole eggs

500g

caster sugar

400g

egg whites

160g

caster sugar

320g

cake flour

40g

vanilla powder
Whip the egg yolks, whole eggs and the larger amount of sugar in a freestanding mixer. Whip the egg whites and add the smaller quantity of sugar.
Fold the egg whites into the first mixture and then add the sifted flour. Weigh out the cake mixture and spread evenly onto a silicone mat. Bake at 230°C for 6-7 minutes in a fan oven. 725g per 40x60cm baking sheet
BASIC MILK CUSTARD
1260g

whole milk

250g

egg yolks

125g

caster sugar
Mix the egg yolks with the sugar without whitening. Bring the cream and milk to the boil and pour onto the egg yolks.
Cook until the mixture coats the back of a spoon at 84-85°C. Strain and use immediately.
DULCEY CRÉMEUX
Take the hot and strained custard and use a rubber spatula to emulsify with the chopped chocolate, as for a ganache, until smooth, glossy and elastic. Blend to perfect the emulsion, taking care not to incorporate any air and working at 35-45°C.
This technique will ensure the cream is always smooth, even after thawing.
BANANA PASSION FRUIT COMPOTE
2010g

banana

370g

passion fruit pulp

220g

soft brown sugar

220g

LIQUID CLARIFIED BUTTER

170g

lemon juice
Slice the peeled bananas on the bias. Mix together the passion fruit pulp with the sugar, liquid butter and lemon juice.
Add the bananas and leave to marinade for 30-40 minutes. Pour into a dish and cook at 200°C for 12-15 minutes. Set aside in the refrigerator and blend when cold.
DULCEY ESSENTIALS LIGHT MOUSSE
Bring the milk to the boil and add the soaked and drained gelatin. Pour around one third of the hot liquid onto the melted couverture. Whisk until smooth, glossy and elastic, signifying the emulsion process is underway. Add the remaining milk, taking care to preserve this texture.
When the mixture reaches 30-35°C, fold in the cold whipped cream. Use immediately. Blast freeze.
ABSOLU BANANA PASSION FRUIT SPRAY GLAZE
50g

banana pulp

50g

passion fruit pulp
Bring the Absolu Cristal neutral glaze to the boil with the banana and passion fruit pulps and then blend.
Spray immediately using a spray gun at around 80°C.